Welcome to Scotvet, Your Local Vets in Glasgow
Coronavirus

Update
19th May 2020
We would like to reassure our clients that we are continuing to provide veterinary services at our Glasgow vet clinic in accordance with current BVA guidelines in order to protect public health and the safety of our staff & clients. To maintain social distancing and to protect our clients and staff we will only be providing veterinary services at our Sandyhills clinic in Shettleston until further notice.
Please follow us on Facebook for regular news updates. We aim to protect our staff, our clients and continue to provide the best care for your pets. Thank you for your cooperation.
Please call 0141 778 8335 to speak to a member of our team if you have any queries or concerns.
We aim to deliver quality services to the local communities with care, compassion and affordable prices.
About

Scotvet
Animal Health
We are an independently owned team of veterinary professionals providing veterinary care and advice to pets and their owners, through our Glasgow vet clinics located in Shettleston and Baillieston.
Our team of Glasgow vets are experienced and qualified veterinary surgeons and veterinary nurses, who strive to provide care and attention to all the patients in their care, whether they are old or young, healthy or unwell, from the smallest mouse to the biggest dog and everything in between.
Want to know more about Scotvet?
Cat, dog, hamster, rabbit, budgie – we will see them all.
info@scotvet.com
Baillieston Veterinary Clinic

1 Maxwell St
Baillieston
Glasgow
G69 6ED

0141 378 6293
Sandyhills Veterinary Clinic

1453 Shettleston Rd
Glasgow
G32 9AT

0141 778 8335
Taking your pet to the vets for whatever reason can sometimes be stressful for both you the owner and for your pet. That is why we have put together an FAQ that will hopefully answer all your questions.
Pet Emergencies
Find all the answers you need about emergencies or out-of-hours appointments.
About My Appointment
Information about booking, procedures and what to expect when visitng the vets.
Costs & Insurance
Everything you need to know about our vet prices, pet insurance and general payment information.
Registering & More
Find out about registering with a vet and other general information such as parking at our clinics.
June Info Zone – Why You Should Never Leave Dogs In Hot Cars
Did you know that temperatures inside a car can jump by over 10 degrees in just 10 minutes? Never leave your dog in a hot car, even when parked in shade or with the window cracked - doing so leaves them at risk of heatstroke and death. Leave your pet at home with access to water and adequate ventilation to keep them safe.
The Latest Small Talk PDF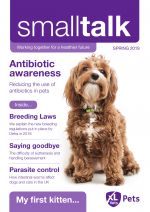 Recently the Government declared that drug-resistant super bugs are as big a threat to humanity as climate change. This announcement was given as a new five–year plan to tackle the problem was unveiled. As part of this, there has been a commitment to reduce antibiotic use in animals by 25%, from the 2016 levels, by next year.